RESTAURANT LE SIEUR DE PABOS
Contemporary and Regional Cuisine
Creatively traditional is the perfect way to describe our cuisine!
Restaurant Le Sieur de Pabos offers tasty updated versions of traditional fare. Our dishes, made with fresh products from the Gaspé region, are creatively adapted to current trends. Open every day for breakfast, lunch and dinner, the restaurant offers an à la carte menu, a daily menu and a table d'hôte menu in the evening.
To add to your pleasure, Le Sieur de Pabos also boasts a fine wine list and a selection of Scotches.
Specialties: fish, seafood and steaks.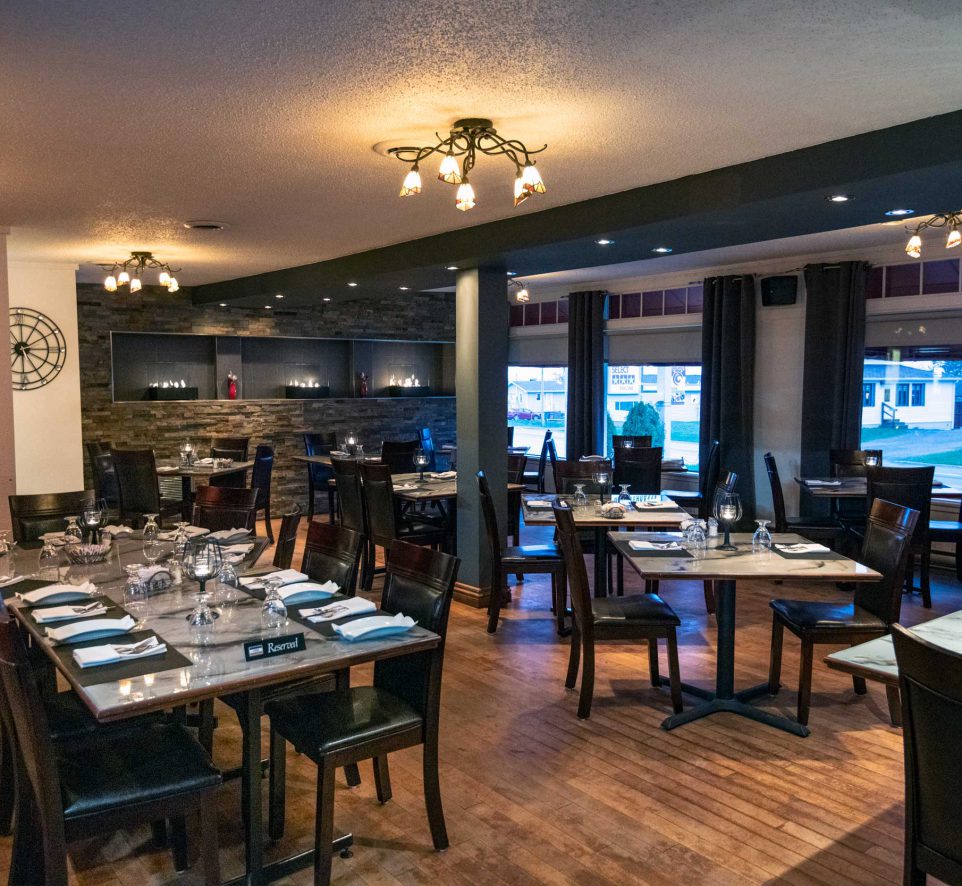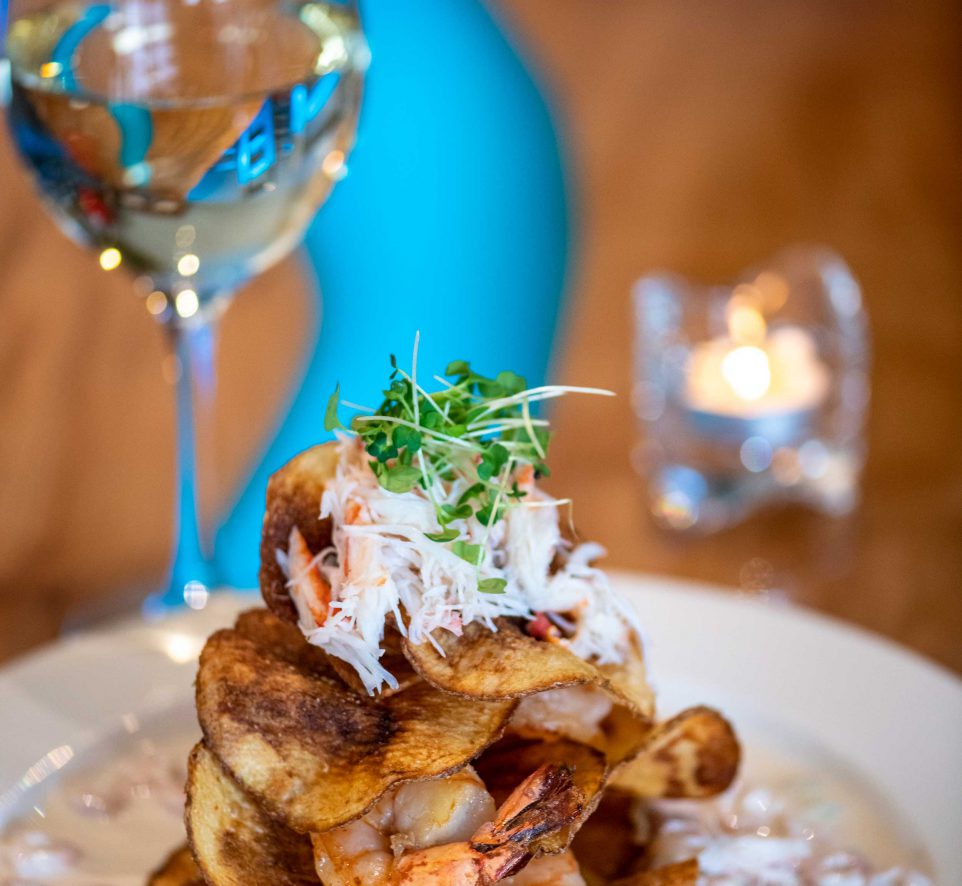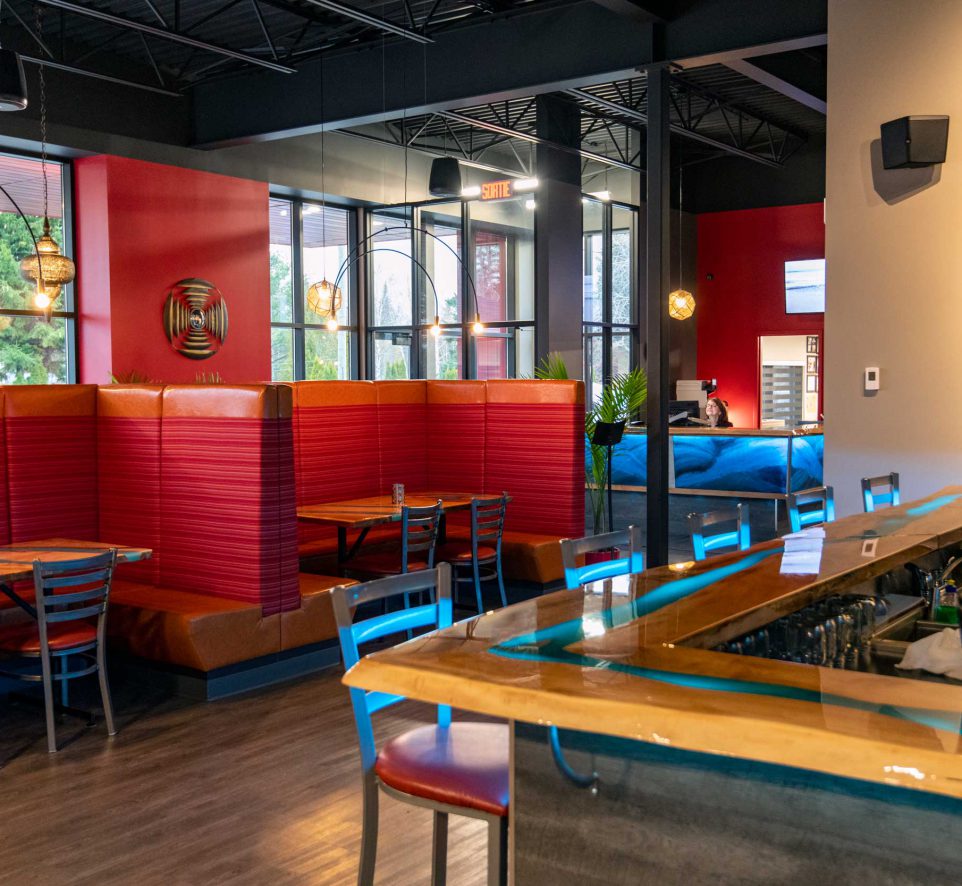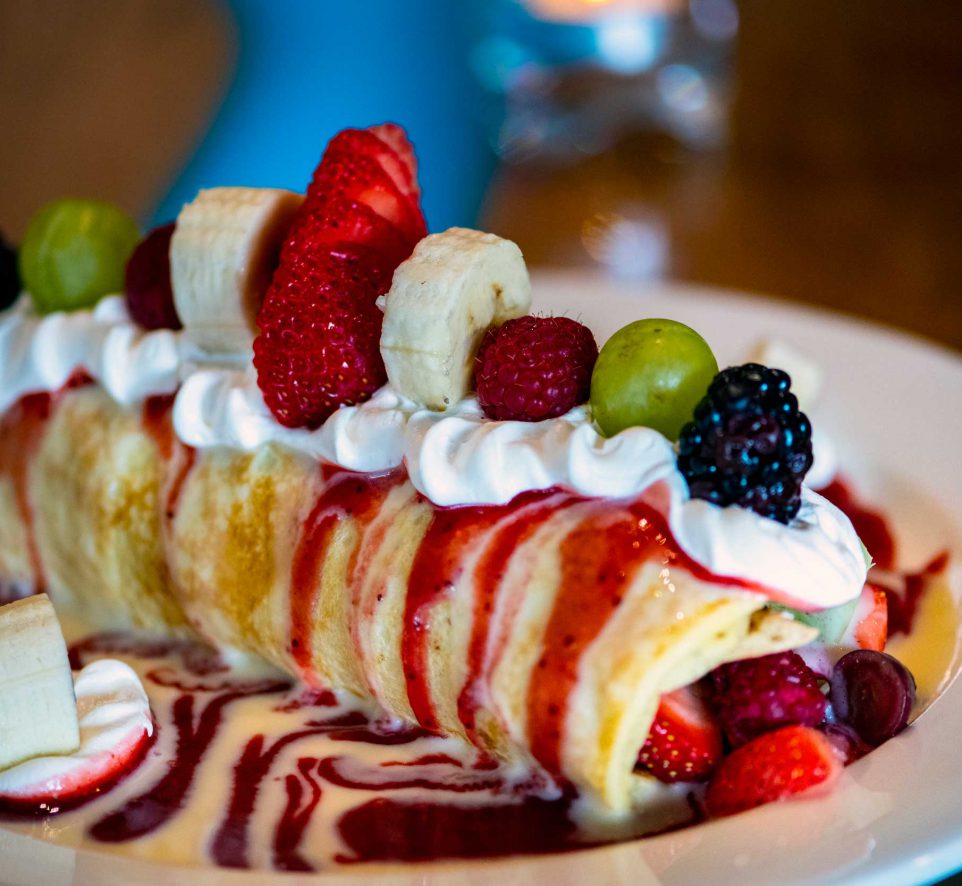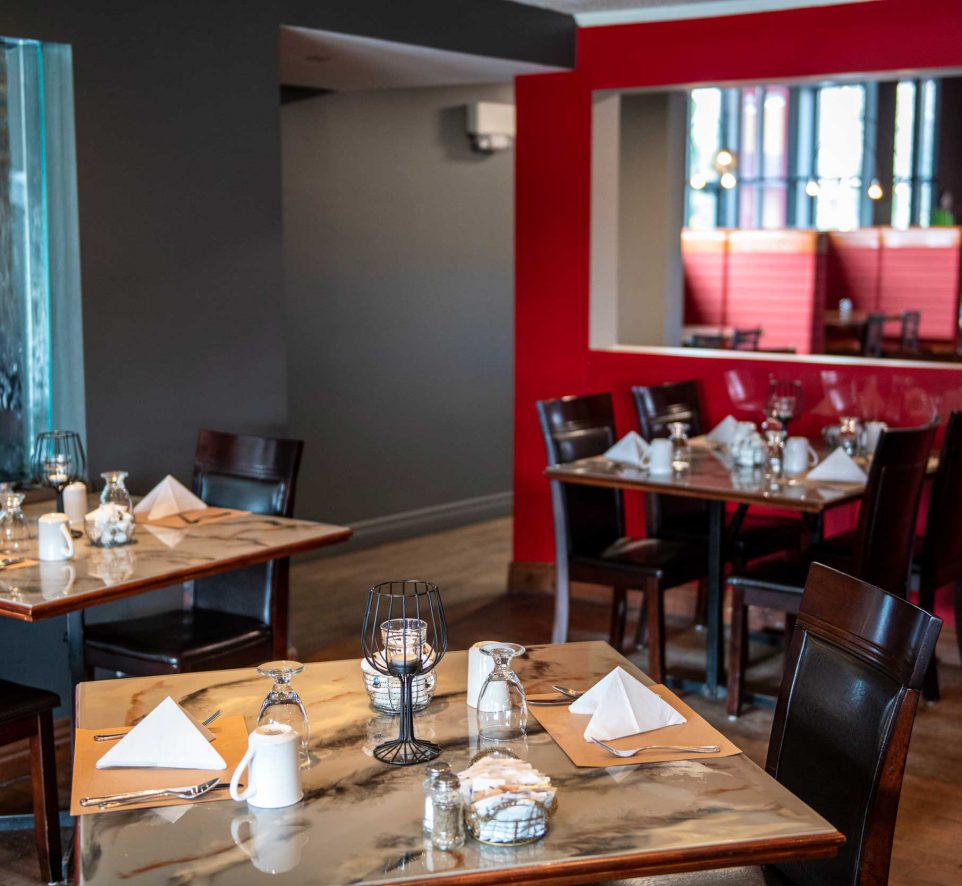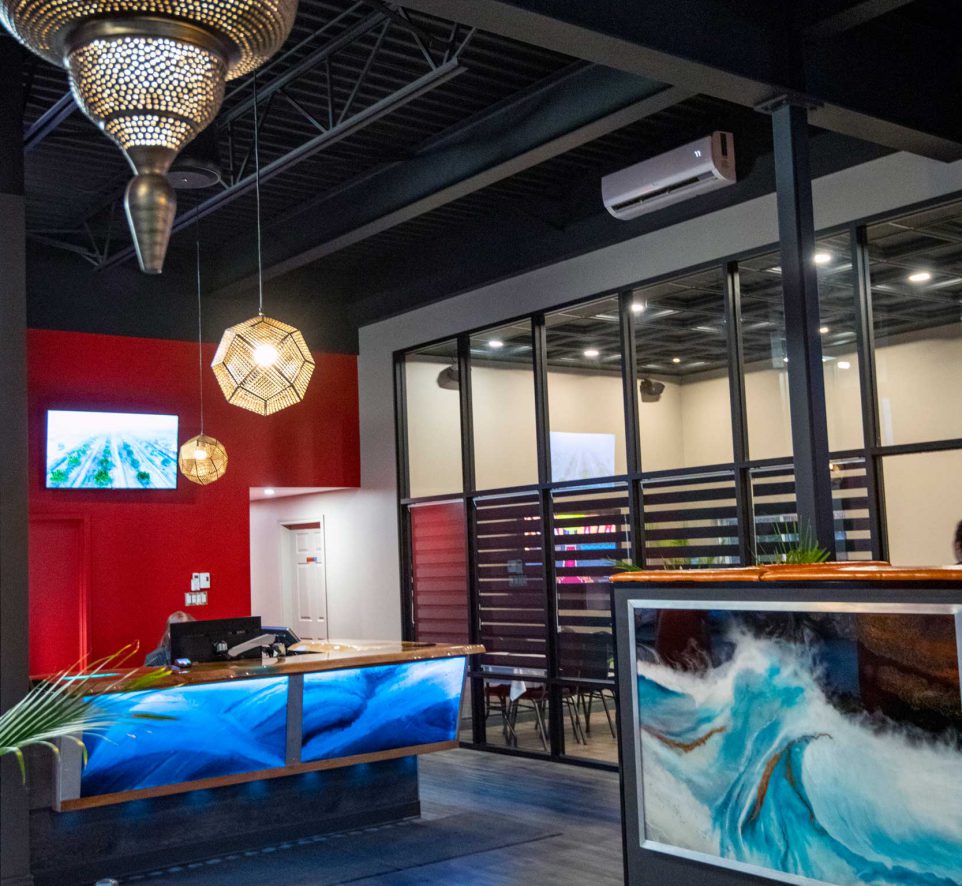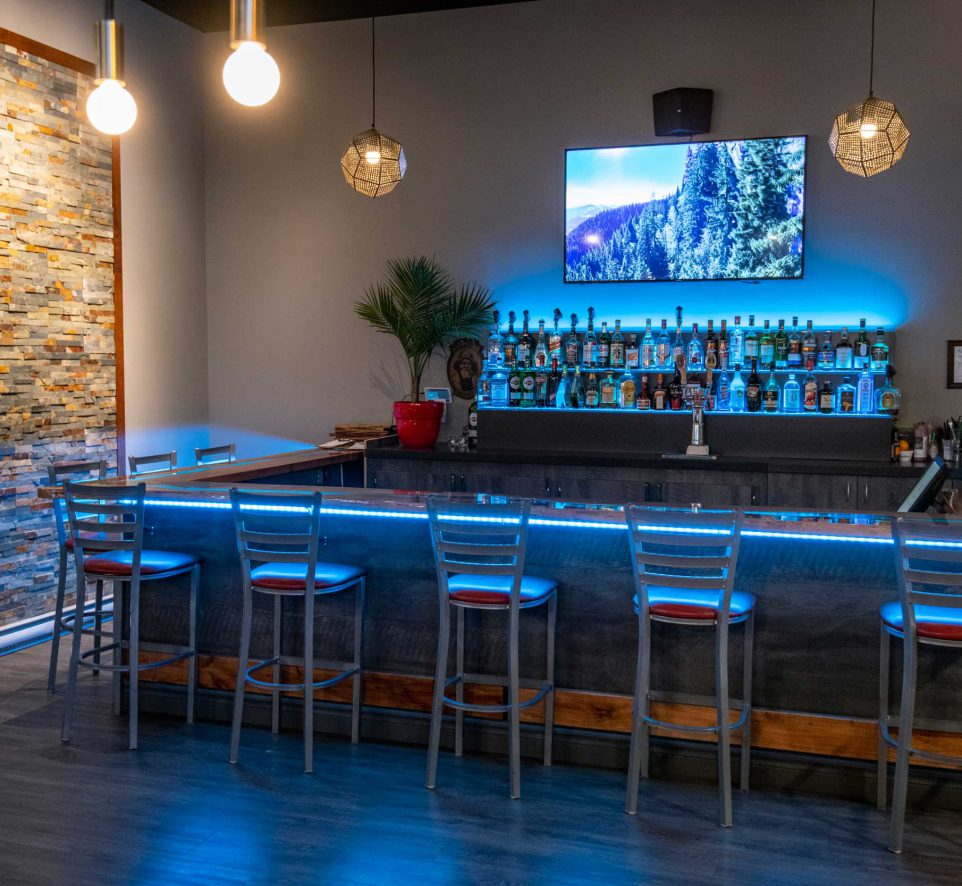 Soup of the moment
Tartare duo surf & turf
or
Escargot pastry with garlic cream
Chef's salad with Le Sieur dressing
Main course*
Chicken brochette on the grill with Devil's sauce
Oven-baked cod with leek and champagne sauce
Scallop Wellington prepared with brie and shrimp sauce
Seafood millefeuille
Classic salmon tartare
Certified Angus Beef tartare
10 oz. Certified Angus Beef steak on the grill
7 oz. Certified Angus Beef filet mignon on the grill
Chef's surprise with coffee or tea
* Possibility of extra:  Potato topped with sour cream, bacon and shallot

The Classics
One egg any style
Two eggs any style
One egg with one choice of meat
Two eggs with one choice of meat
Brunch plate (Two eggs, three meat, creton, beans and a small juice)
Gaspesian breakfast (Two eggs with bologna)
Breakfast club sandwich
Two eggs Benedict on English muffin with choice of meat
Bagel with Monsieur Emile smoked salmon
Two eggs Benedict with Monsieur Émile smoked salmon
For your sweet tooth
Served with syrup, coulis or English cream and coffee
Plain crepe
Chocolate banana crepe
Fruit crepe
Strawberry crepe
Banana and strawberry crepe
French toast
French toast with fruit
Omelettes
Served with potatoes, toast, coffee or a small juice
Plain omelette
Cheese omelette
Ham omelette
Cheese and ham omelette
Western omelette ( ham, green onion and peppers)
Veggie omelette ( Tomatoes, peppers, green onion, mushrooms and olives )
Spanish omelette ( Bacon, sausage, tomatoes, peppers and green onion )
A healthy start
Served with coffee or a small juice
Porridge with milk and toast
Fruit plate with English cream
Bowl of fruit with yogurt and granola
Healthy-start plate (Two poached eggs, cheese, yogurt, fruit and whole wheat bread)
On the go
Served with fruit, coffee or small juice
Bowl of cereal
Plain bagel
Bagel with cream cheese
Grilled cheese sandwich
Western Sandwich
Bon matin sandwich ( served on English muffin or bagel, egg, ham, cheese and potatoes)
À la carte
Cheese Whiz or cream cheese
Nutella
Coulis or chocolate sauce
Real maple syrup
Toast
Hollandaise sauce
Bacon, ham, sausage or creton
Beans
Cheese
Potatoes
Yogurt
One crepe
Children's menu
(8 and under)
One egg, one choice of meat, potatoes and a slice of bread
Small ham and cheese omelette served with potatoes and a slice of bread
French toast
Plain crepe
Small chocolate banana crepe
Small fruit crepe
Small strawberry banana crepe
Due to the pandemic, we were forced to adapt our offer.  We have recently decided to reopen for lunch, however our menu is restricted to less choices.  We are looking forward to bringing back our  regular selection after this sanitary crisis is finally over.
Menu of the week of December 14th 2020
Soup of the day
Hamburger steak with gravy and onions
Sole Meunière
Seafood half thin-crust pizza
Coffee or tea
Add a dessert for 1$
Appetizers
Garlic bread au grat
Homemade parmesan fondue
Ceasar salad
Garlic escargot au gratin
Entrée of the moment
Giant shrimp cocktail
Monsieur Emile smoked salmon plate
Soup & salad
Soup of the day with bread
French onion soup
Chef's salad with fruit and cheese
Ceasar salad with grilled chicken
Fourchette bleue seashell chowder
Fish soup
(Main course available)
Fish and seafood
Filet of sole meunière
Filet of cod meunière
Seafood crepe
Seafood in a shell
(Large sie available)
Plate of scallops
Scallops with pepper sauce
Shrimp shish kebab
Surf & Turf
(Steak 5 oz Certified Angus Beef with lobster tail)
Seafood platter
(Scallops, shrimp, crab, lobster and seafood in a shell)
Meat dishes
All-dressed 6 oz. Certified Angus Beef hamburger with fries
All-dressed 6 oz. Certified Angus Beef cheeseburger with fries
Hamburger steak Certified Angus with sauce and onions
Veal liver with chef's sauce
Chicken shish kebab
Steak and fries 10 oz. Certified Angus Beef on the grill
Filet mignon 7 oz. Certified Angus Beef on the grill
Doneness: Extra-rare (bleu): warm and very red through
Rare (saignant): warm and red through
Medium: hot with pink centre
Well done: hot and grilled through
Pasta
Spaghetti with meat sauce
Au gratin
Lasagna au gratin with salad cesar
Fettucini Alfredo
Seafood Fettucini
Fast food
French fries
Onion rings
Poutine
Italian poutine with home made meat sauce
BBQ Chicken leg
BBQ Chicken breast
Club sandwich
Pizza all-dressed 9"
Pizza all-dressed 12"
Seafood pizza 9"
Seafood pizza 12"
Crab club 1/2 pound
Lobster club 1/2 pound
Children's menu (12 and under)
Grilled cheese sandwich
Spaghetti
Ceasar salad with grilled chicken
Half portion meunière style cod
Dessert
Ice cream
Chef's surprise
White cake with caramel
Chocolate and pretzel cake
Sugar pie
Crème brulée with flavors of the season
Profiterole trilogy
Homemade Fruit salad
Chocolate and pear cheesecake
RED WINE
De Gras (Cabernet-Sauvignon/ Syrah,Chile)
Poças Coroa D'Ouro (Douro, Portugual)
Nespoli (Sangiovese, Italy)
Les Cranilles (Côtes-du-Rhône, France)
Georges Duboeuf (Brouilly, Beaujolais, France)
Sebastiani (Cabernet-Sauvignon, California, USA)
Château Bujan (Merlot, Bordeaux, France)
Cloudline (Pinot noir, Oregon, USA)
Chapitre Suivant (Pinot noir, Bourgogne, France)
Aponte (Torro, Spain)
Brunello Di Montalcino (Brunello, Italy)
Torres Mas La Plana (Cabernet-Sauvignon, Spain)
ROSÉ, SPARKLING WINE AND CHAMPAGNE
White Zinfandel Beringer (Zinfandel blanc, California, USA)
Château Bellevue La forêt (Côtes du Frontonnais, South West France)
Villa Conchi Cava Brut (Mousseux, Italy)
La Veuve Cliquot (Champagne, France)
WHITE WINE
Casa Ferreirinha Planalto (Douro, Portugal)
Ruffino Lumina (Pinot Grigio, Italy)
Yulambo The Y series (Viognier, Australia)
L'Orpailleur (Vidal/Seyval, Quebec, Canada)
Léa Fermes Bourdages (Vin de rhubarbe, Gaspé Peninsula, Canada)
Villa Maria Estate Private Bin (Sauvignon-blanc, New-Zelande)
Inama Soave (Garganega, Vénétie, Italy)
Albert Bichot (Chablis, France)
Meursault (Bourgogne, France)
HALF AND QUARTER
J.P. Chenet (250ml) (Cabernet-Sauvignon/Syrah, France)
Les Jamelles (250ml) (Sauvignon blanc, France)
Vivolo di Sasso (375ml) (Merlot, Vénétie, Italy)
Marquis de Jouennes (375ml) (Bourgogne Aligoté, France)
Mouton Cadet rouge (375ml) (Bordeaux, France)
Mouton Cadet blanc (375ml) (Bordeaux, France)
Les Herbes Folles Gin (Cap-d'Espoir, Gaspésie) – as a gin and tonic with cucumber or neat
Élixir de Gin – Les Herbes Folles (Cap-d'Espoir, Gaspésie) – on ice or with tonic
Avril Amaretto – on ice or with a little lemon
Sortilège Prestige 7-Year – to be enjoyed on ice
La Crème de Menthe de Isabelle – with a little brandy or on ice
Chic Choc Spiced Rum – on ice or rum-and-Coke style
SCOTCH
Johnnie Walker Red
St. Leger
Wolfburn
Tullibardine Sovereign
Auchentoshan
Arran Port Cask Finish
Lagavulin (aged 8 years)
Kilchoman
Glenfiddich (aged 12 years)
Balvenie (aged 12 years)
Glenlivet Nàdurra
LUNCH COCKTAIL
Framboisier – sparkling wine + raspberry liqueur
Mimosa – sparkling wine + orange juice
Grapefruit Gose – Pit Caribou sour beer (L'Anse-à-Beaufils, Gaspésie) + pink grapefruit juice
FLAVOUR YOUR COFFEE
Coureur des Bois – maple cream, 15%
Saint-Crème – cream sugar cream, 17%
Baileys – Irish cream, 17%
Tia Maria – coffee cream, 20%
Hywilde – coffee liqueur, 30%
Sortilège – whisky and maple syrup liqueur, 30%
GIN
Herbes folles (Cap-d'Espoir, Gaspésie)
Elixir de gin  (Cap-d'Espoir, Gaspésie)
Radoune (Gaspé, Gaspésie)
Romeo's
Ungava
Saphire
Order Online
Ready-to-eat dishes and take-away meals
Want to enjoy a hot dish or ready-to-eat meal from Restaurant Le Sieur de Pabos at work or in the comfort of your home? Use our online ordering service!
Place your order, pay online and pick up your food at the indicated time.
Please note that orders are prepared during opening hours.
If your order is placed within these hours, it will be ready in about 20 minutes.
Le Sieur de Pabos
Business Hours
Monday to Friday: 6:00 a.m. to 11:00 a.m. (breakfast), 11:00 a.m. to 2:00 p.m. (lunch) and 5:00 p.m. to 10:00 p.m. (dinner)
Saturday and Sunday: 7:00 a.m. to 1:30 p.m. (breakfast only) and 5:00 p.m. to 10:00 p.m. (dinner)
A Proud User of
Local Products
We are proud to showcase Gaspesian and Quebec products in every meal we serve. We are also proud members of Gaspésie Gourmande and hold the Aliments du Québec certification.
In our continuing efforts to promote less widely known fish and seafood from the St. Lawrence on our menu, we also hold the Fourchette bleue certification.
Restaurant
Order online
Ready-to-eat dishes and take-away meals